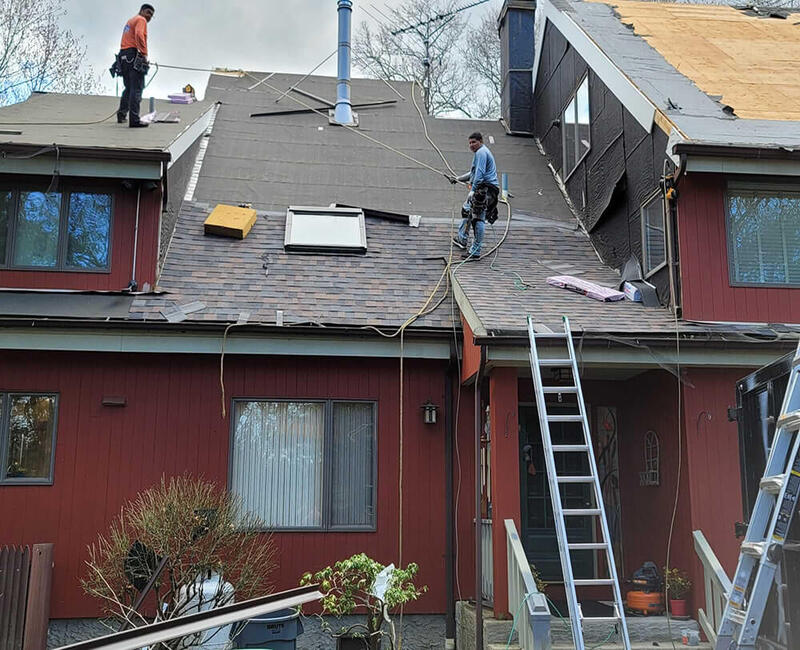 Choosing the best roofing company for a building project is a complex task. You must pick the best roofing company available to receive outstanding service to complete a project that will last for longer. So, when choosing a roofing company, it's important to be picky as it's a significant investment. You want to work with a company that will listen to your needs and make sure everything is taken care of to your satisfaction. 
Many individuals in LI are still determining what to look for in a roofing company, but we are here to help! Let's review various qualities that make a roofing company stand out in Long Island.
Do your research –
Once you've compiled a list of the top roofing companies based on your requirements and budget, conducting extensive research is essential to determine whom you want to work with. So, begin with a basic Google search by visiting their website or official page to learn more about their previous contracts, how long they have been in this business, who they are linked with, and much more. If online research is unavailable, ask the roofing company about recently completed projects and even request to speak with current clients.
Ensure you're working with a company that doesn't ask for money upfront. They should be local, having a physical office where you may see their staff during business hours. They should be able to provide a list of references and a track record of producing high-quality workmanship. Moreover, they should also be able to provide examples of warranty claims that they have privileged.
Licensed and insured –
When hiring a roofing company or contractors in Long Island, please ensure they are fully licensed and insured. As a result, if any damage to the property or injury to a worker causes during a roofing project, the company will only be held liable. There are several methods for determining whether a company is licensed and insured. First, you might request their evidence of insurance, including Liability and workers' compensation insurance. Secondly, you can contact your local licensing board to determine whether the company you are hiring is licensed in your area. Whether you need a roof inspection or a whole roof replacement, ensure the company you are hiring is officially established.
Warranties –
Almost all reputable roofing companies offer a labor warranty. Typically, a one-year warranty indicates that if anything goes wrong with your roof due to lousy craftsmanship, they will repair it for free within a specified time frame. Look for a company offering a one-year or more extended warranty; beware if they don't provide one.
Workmanship they offer –
The industry is built on the foundation of workmanship. The value is determined by the quality of their job or service. And it would be best if you understood how they work. What do they do to secure your property while it is being built? Protecting your building should be your top priority because a roof replacement tear-off procedure can be exceedingly damaging. From start to finish, a well-established roofing company in Long Island will have an expert on-site, offering reasonable market rates. These roofing specialists are trained in proper installation techniques, building codes, and safety protocols. 
Get a roof estimate –
When it comes to making big decisions regarding your home or business, it's wise to explore different options and obtain multiple quotes from various roofing companies. It will enable you to compare costs and get the best deal. After all, you want to avoid getting stuck with an unreliable or pricey service that does not match your roofing needs.
Doing thorough research beforehand will guarantee that you make an informed decision and get the maximum value for your money. Taking the time to compare estimates from several roofing companies is always worthwhile. If one company provides a significantly higher quotation than the others, you may consider moving your project elsewhere. With adequate preparation and planning, you can give yourself peace of mind knowing that you have made the right decision.
Proper handling of unplanned repairs –
As with any home renovation project, unplanned repairs or replacements may arise anytime. Because your roof is an essential aspect of your home, repair or replacement job should be done correctly. Before the job begins, inquire about how the roofing contractors in Long Island handle unplanned repairs. It is essential because you must know how to avoid being ripped off by fly-by-night roofing contractors.
Decide your roofing materials –
Various roofing materials are available on the market. They do have specific benefits and drawbacks. Determine which material is most suited to your particular roofing requirements. It should be done with the help of roofing specialists and a little bit of internet research. If you can locate a roofing contractor who also supplies the material, you might save a lot of money. Most contracts will offer you a higher discount than the market and an additional material guarantee. Materials are relatively limited for metal roofs, but choosing the appropriate color and style is still essential.
So, when selecting a roofing company or contractors, there are various factors to consider. You want to find someone with plenty of experience who is reliable and professional and administers quality work at a reasonable price. For all these reasons, Quick Roof and Siding is your best bet if you are searching for an experienced roofing company or contractors in Long Island.
All projects are unique, and they carefully plan, schedule, and manage each one to surpass their client's expectations every time. Whether you are a business owner searching for quality roofing solutions or a homeowner needing a rapid roof replacement or inspection service, the unwavering commitment of this roofing contractor to customer satisfaction remains the foremost priority. Their roofing professionals strive to deliver excellent services for any home improvement project.
Don't hesitate to contact their expert team at (877) 524-2159 to schedule your appointment regarding the exceptional roofing solutions they offer.